Why choose cast plaques?   Your message lasts a lifetime.   Raised plaque surfaces are polished natural bronze.

Aluminum is a great alternative if you want the durability of bronze, but put the emphasis on economy.


Raised letters, emblems, logos and borders are machine ground natural aluminum finish
Unaffected by age or weather.
Choose from our stock colors for a backgrounds

RED

  BLACK  

GREEN

   TAN  

NAVY

  

ORANGE

  

DARK BROWN

   MAROON  

BLUE 

WHITE
These colorful low-cost dedications and memorials plaques are cast to last a lifetime.
All plaques are cast and have textured enamel background.
Letters and borders are raised.
Our plaques are a full 1/4 inch thick.
Plaques come with screws and anchors.  Plaque holes are pre-drilled for your convenience.  Hanging template included to make hanging your plaque easy.
What Can You Do With Bronze?
Bronze Letters
Award Plaques
Cemetery Markers
Dedication Plaques /Markers
Nameplates/Deskplates
Address Plates
Flower Garden/Tree Donor Plaques
Mailbox Plates
Emblems
Street Signs
Donor Walls
We are only limited by your imagination!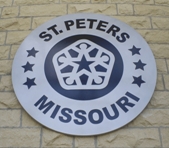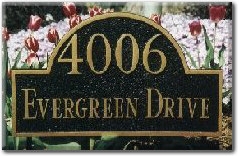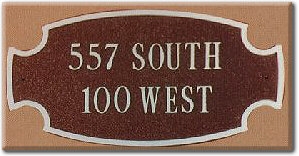 Call, email or fax for pricing.   We will work with you to create your perfect piece!
Options
Plaque options below open a link to an Acrobat Reader Format file.
If you are unable to open the linked pages,  you can download Acrobat Reader here.   It's FREE!

Stock Dividers &Deco Lines (pdf)
Stock Deco Borders(pdf)
Plaque mounting types , flat mounting(pdf)
Stake Mounts (pdf)
Mounting types , to posts(pdf)
Stock logos (pdf)
Historical Plaque Refinishing
Over the years we've seen older historical markers/plaques  exposed to the elements that are in need of refurbishing.  We can bring that marker/plaque back to life and make it look like new.  Repairs to markers/plaques due to vandalism (such as gunshot marks) can also be done.
Call or email for your quote 636-441-4811  or  800-965-6011
sales@www.engravings.com
Before and After Photos of Refinished Markers/Plaques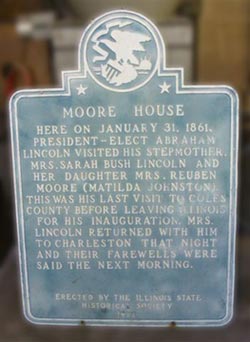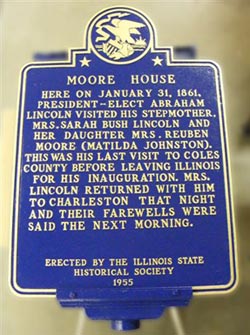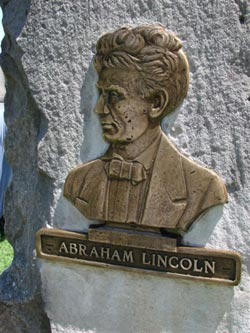 Photo Metal Plaques for Outdoor Use
The ultimate plaque for outdoor use is cast aluminum or bronze.  Where excessive amounts of copy, limited space, or economy are required, an applicable alternative would be the combination of cast aluminum with photo metal inscription.
Photo metal is anodized aluminum with resistance to abrasion, chemicals, and high temperatures and offers extensive outdoor life in the harshest environments.  Plaques are 4" x 6" with a 3" x 5"  imprint area.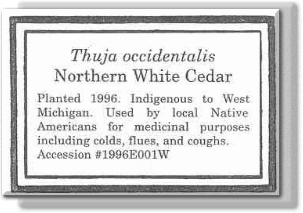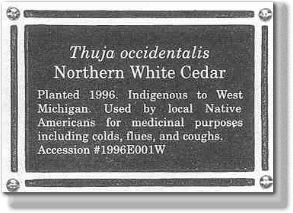 Copy is available in black lettering on silver background or silver lettering on background.  All plaques have lacquer coating.  Stakes available for  ground mounting.
Photo metal plates can be incorporated into cast plaques for a unique memorial or dedication.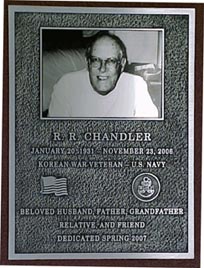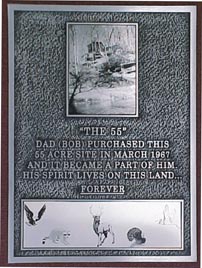 Ghost Imaging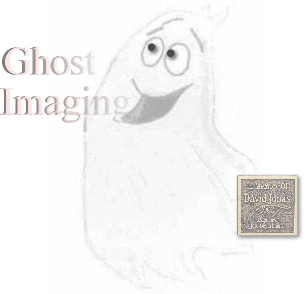 Ghost Imaging.  A unique kind of plaque that is creative, but not too busy.
A custom logo of your choice is ghosted in the background of your plaque and the text is cast over the background image to give your plaque a three dimensional look.  These plaques make great military and city service memorials or dedications
Keep in mind that the background image is not highly detailed –given the name ghost.
The finished product will look best when the background art is simple with heavy lines.
The finishes available for this process are Aluminum with Antique Gold, Antique Copper and Pewter or Bronze with Antique finish.  Holly Bronze can be added to Antique Copper or Antique Gold only.
           Aluminum Pewter                        Antique Bronze                          Aluminum Antique Gold            Holy Bronze Antique Gold

Aluminum Antique Copper and Holy Bronze Antique Copper
Donor /Recognition Walls
Let us help you create your custom donor/recognition wall!